16 Whiringa-a-rangi 2020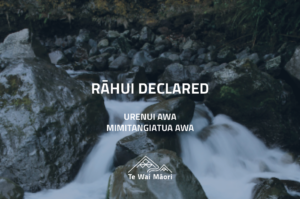 Te Runanga o Ngāti Mutunga have placed rāhui over two awa due to concerns of contamination.
On 7 Whiringa-a-rangi, a rāhui on Mimitangiatua awa from Mangahia stream to the river mouth came into effect.
And on 12 Whiringa-a-rangi a rāhui on Urenui awa from Okoki Pa (Te Rangi Hiroa/Sir Peter Buck Memorial) to the river mouth came into affect.
The rāhui prohibits swimming, fishing, gathering of shellfish and any other recreation activity in or on the waters of the awa.
The health of the awa have become degraded over the years and are not considered safe as a source of kai or recreation. In the case of Urenui awa, the main issue is sewage-contaminated storm water entering the estuary which has the potential to make people sick.