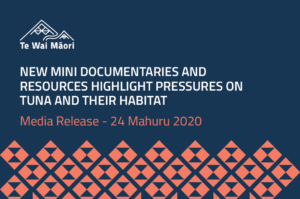 In a three-part mini documentary series 'He Reo Whakamana', Te Wai Māori Trust travels to three different waterways, once significant mahinga kai areas, to capture the state of the tuna, waterways and hear from kaitiaki who are working to protect and enhance these taonga. He Reo Whakamana presents a familiar story: tuna and their habitat are under pressure from our waste management and farming practices.
In Gisborne where the Waipaoa River enters Te Moananui a Kiwa, an old landfill built on the site of Te Pā o Kahu is leaching toxins into the nearby Awapuni stream. Over the last 20 years local kaitiaki and environmental educator Ian Ruru has seen the tuna populations dwindle and sicken.
But there's hope. "The rangatahi of today are the rangatira of tomorrow," says Ruru. He's been working with rangatahi from kura to teach them about water quality and tuna, "how things were, how they are today, but most importantly how we want to see them in the future."
"It's important that our children understand that, so that they can see that it's a problem and challenge the authorities that are in charge to improve and change that negative trajectory," Ruru says.
Meanwhile, in Taranaki the Waitekaure stream is suffering as a result of stream modification, water extraction, effluent and runoff. "For me it's crying out for the mana it deserves," says kaitiaki Tihikura Hohaia, "instead of being called streams they have become drains."
"The greed and need for money is outweighing the value that we are placing on our smaller waterways." In the summer of 2017/18 the Waitekaure stream was the site of a mass tuna death.
He Reo Whakamana shines a light on the status of our waterways and the impact this is having on our taonga freshwater fish. "It asks us to think about what tuna would say to us about their health, their kainga and how our decisions affect them and their home. That's the perspective we want to encourage decision makers, councils and communities to think about," says Te Wai Māori Trust Chair, Lisa Te Heuheu.
New resources now available for kaiako and whānau
"We have an opportunity to engage our tamariki and rangatahi in the care and protection of our waterways and freshwater species," says te Heuheu. Te Wai Māori Trust has produced educational resources to accompany the series, asking whānau to assess the health of their local waterway and report their findings to the local council.
The three resources encourage tamariki to work with whānau or kaiako to first assess the health of their local waterways using an info pack and worksheet, and then to effect change by sending a letter and their findings to local and regional decision-makers.
"It's a scientific inquiry process underpinned by a te ao Māori perspective. We want our whānau to know that their voice matters and can have a positive impact on the future health of our waterways." te Heuheu says.
Te Wai Māori Trust is launching the series and resources online from September, for more information and to download resources, visit: waimaori.maori.nz/he-reo-whakamana
End
About Te Wai Māori Trust
Te Wai Māori Trust works on behalf of all Iwi to advance the interests of New Zealand's indigenous freshwater fisheries species and advises Iwi and the Government on freshwater fisheries matters.
The Trust undertakes research and provides funding and support to Iwi, hapū and whānau undertaking research into freshwater fisheries and habitat restoration.
The Directors are Lisa te Heuheu, Miria Pomare, Pahia Turia, Donna Flavell and Ian Ruru.
Te Wai Māori Trust was established under the Maori Fisheries Act 2004 to advance the interests of Māori in freshwater fisheries.
For media enquiries contact:
Bede Dwyer, Kūrae Kōrero (Communications Manager) – Te Wai Māori Trust
Email: Bede.dwyer@waimaori.maori.nz Phone:021 073 9684