Wai Ora Fund Now Open for 2021
04/03/2021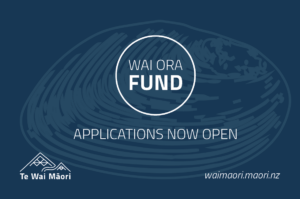 Te Wai Māori Trust is pleased to announce it is now seeking applications for the 2021 Wai Ora Fund.
This year, Te Wai Māori Trust has made $200,000 available through the fund to Māori in order to develop expertise and promote Māori interests in freshwater fisheries. The fund was originally established in 2012 and to date there have been 56 projects funded by the Wai Ora Fund through Te Wai Māori committing funds of more than $2 million. To view some of the previous projects made possible through the Wai Ora Fund click here.
Purpose of the fund
Through the Wai Ora Fund, Te Wai Māori seeks to enable Māori to develop expertise to promote and advance Māori interests in freshwater fisheries through development, research and education. The purpose of the fund is to:
Increase Iwi and hapū capacity and capability in freshwater fisheries and their ability to exercise rangatiratanga over their freshwater fisheries
Promote and share indigenous fisheries expertise, knowledge and understanding
Increase the quality and range of information to Iwi and hapū on freshwater fisheries and their interests thereof
Enhance the health and wellbeing of the indigenous fisheries and their environment.
Click here to find out all you need to know, including a copy of the Guidelines for Wai Ora Fund applicants, a process map with key dates and milestones and also the Wai Ora Fund Application Form.